Description
Product Description
The device has a unique folding design so you can easily carry it on trips and outings. Watching your favourite movies on your phone with a theater like experience, you can now make long journeys in the bus less boring.
If you want a more engaging and immersive experience while watching your favourite movie, then strap on this ANTVR headset. It's an ideal solution for a good VR experience.
TheaterMax Optimized

This VR headset is designed to optimize your movie watching experience to a whole new level. You can enjoy a theater-like viewing experience from the comfort of your room.
Design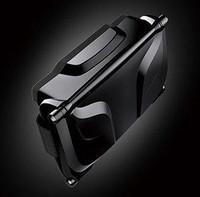 This headset is ergonomically designed to offer a comfort fit. It features a unique folding design that allows you to fold the headset to make it more compact and easy to carry around, just about anywhere.
Large than Life Visual Experience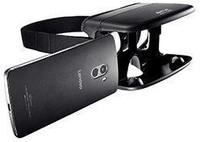 Watching action movies on the small screen of your phone takes away half the fun. But thanks to this headset's wide viewing angle of about 100 degrees, you can enjoy a more realistic viewing experience.
Highlights
Compatible with Android and IOS.
Supports screen size from 4.5 to 6 inches smartphones.
Supports 3D Videos.
Supports 360 degree Videos.
FOV (Field of View) – 100.
Superb built quality.
Super clearer & large lenses.
Comfortable head straps (adjustable).
Unique foldable design.
Light in weight among all the VRs available in the market.
Easy to carry due to foldable design.
Adjustable lenses according to eyes.
Easy to clean lense.
Soft Cushioning for face.
Can be use with specs.
Open area for charging slot and headphone jack.
Specifications
In The Box
Sales Package – ANT VR Headset, Cleaning Cloth for lenses, Protective Bag
General
Brand – ANT
Model Number – PA15LF55A/PA15LF53A
Brand Color – Black
Model Name – ANT VR (Designed By Lenovo)
Type –  VR Headset / Smart Glasses / VR Goggles / VR Box
Field of View – 100 Degree
Platform Features
Compatible Devices – Compatible with all smartphones with screen sizes ranging between 4.5 inches to 6 inches Required Gyroscope Sensor for 360 Videos
Features
Foldable and Portable, It Support Phone Sizes Starting from 4.5-inches to 6-inches, Can be Used with the Reading Glasses On, Light weight
Dimensions
Weight – 160 g
Other Dimensions – 16 x 6.1 x 10.4 cm
Warranty
NA
Unboxing and Review Videos
English
Hindi
Top 10 Best VR BOX
Sony PlayStation VR
Oculus Rift
Samsung Gear VR
Google Cardboard
LG 360 VR
Google Daydream
Microsoft HoloLens
Sulon Q
Homido Virtual Reality Headset
Best Brands In VR (Virtual Reality Boxes)
Oculus VR
Google
Microsoft HoloLens
Magic Leap
HTC Vive
Samsung Gear VR
WorldViz
Bricks & Goggles
Marxent Labs
Unity Technologies
Snap
Firsthand Technology
Wevr
Retinad Analytics
Mechdyne
NextVR
Virtalis
AMD
Osterhout Design Group
Prenav
Nvidia
AuraVR
Circle VR
MINIVR
MTT
Nexus
MI
ANT
Bingo
DOMO
Shinecon
Zebronics